PROCEDURES TO FOLLOW
IF YOUR BICHON BECOMES LOST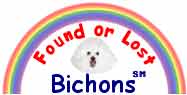 STEP ONE:
IMMEDIATELY send the following details to:
lost@bichonrescue.org
1. Your Name:
2. Your Address
3. Your Phone Number (cell, work, relatives i.e. someone who will be home to take calls.)
4. City, State/Province
5. Date dog was lost
6. "Area" Where Lost (subdivision, area of city, cross streets)
7. Bichon's name
8. Sex
9. Weight
10. Identifying Descriptors - i.e. collar, tags, colors, microchipped, tattoo, etc.
INCLUDE PHOTO IF YOU CAN!!
Send info to: lost@bichonrescue.org
---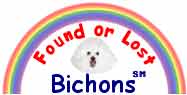 STEP TWO:
FOLLOW ALL THE SUGGESTIONS IN
"LOST DOG"
Please know we'll be praying for you and your doggie ....