Bichon Frise
Information Station
serving the worldwide Bichon Frise community
EDUCATIONAL section

THANKSGIVING TIME CAUTIONARIES
Please be vigilant of these things .... Click

BICHON FRISE
CHECKS

Attn: Kroger Shoppers

'There is no therapist in the world as effective as an adoring bichon.'
LEGAL DISCLAIMER: All information contained on these pages is offered as a helpful service. It it not intended as medical counsel or taking the place of professional guidance. Please seek the services of a competent veterinarian or professional dog trainer at the first indication of problems.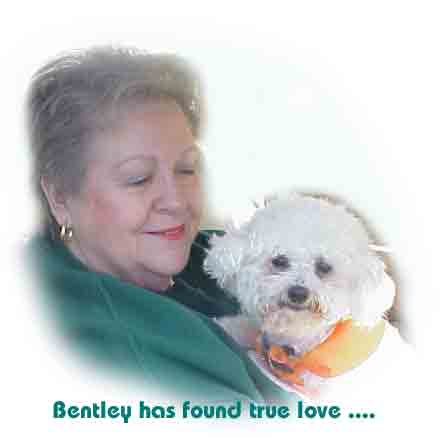 ADOPTED MARCH 2003
Thank you for your interest in a rescued bichonx,
please contact us about other Bichons or mixes who need loving homes.
7 lb Bentley has spent two months in recovering from a
femoral head ostectomy and is now ready to be adopted
by a loving gentle person or couple in the eastern Tennessee region
(sorry, no children please)

Intake photo
Dec 14


.. but aren't I adorable today! (February 18)

fff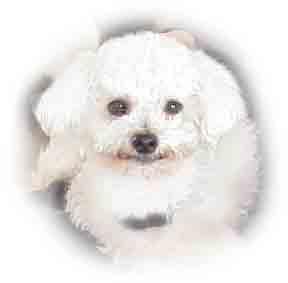 January 2003 Hi .. I'm Bentley
and though I still waddle as my hip heals,
I just LOVE life!
I like giving presents and always greet my people with one of my best toys first thing in the morning . I like to PLAY too! I'll run and fetch with lots of smiles and tail wags. I LOVE to be held and cuddled ... I'll whimper just a bit when my people leave me alone .. I really LOVE all people (especially my caretakers!) but have some significant fear aggression toward BIG dogs and can't handle small dogs who want to play rough, so I probably need to be in a one-dog home. I'm so small .. and still a bit fragile.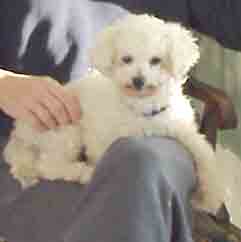 Monday 1/20/03
Feb 1 - Bentley is progressing very well!

SPECIAL NOTE: We are overwhelmed with appreciation at the huge number of inquiries from people throughout the U.S. and Canada . . .all wanting to adopt this dear little fellow. It is bolstering to our hearts to know there are so many wonderful people out there!! We love and appreciate you !!!

GEOGRAPHIC RESTRICTION: Because of his December surgery and the possibility of a second surgery, he really needs to be adopted to a special person (or persons) in the KNOXVILLE,TN REGION.
Thank you for understanding how responsible we feel to make sure
he gets the best of care ... and the maximum of love.
Thanks so all who support Bichon Rescue's efforts
to improve the lives of such sweet fluffs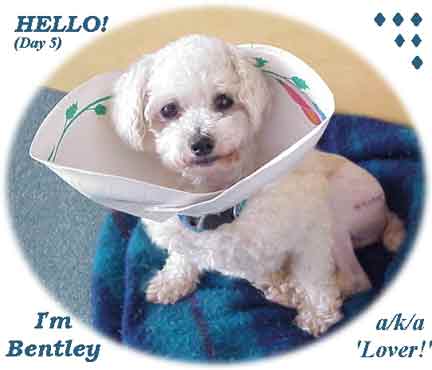 December 18, 2002 photo
PERSONAL STATS

Name:

"BENTLEY"

Breed:

Tiny Bichon/Toy Poodle mix

Color:

White

Weight:

7 lbs

Age:

Adult
(approx 5-7 yrs)

WANTED
LOVING HOME TO PAMPER ME

I am a little doll of a fluff who has recently had surgery for a dislocated hip. I am doing VERY well, but need to be adopted by someone who can gently continue my healing .... and then possibly another surgery in about 4 months . . . after my hip has healed into a 'false socket'. (Bichon Rescue will pay for my next surgery too.)

Need: When I am confronted with a big dog, I turn into 7 lbs of CUJO DOG!! No joke ... so I need a devoted family who will protect me from confronting bigger dogs.

Need: Please note my little size and fragility ... so I really need to be adopted by a kind caring adult or couple (no children please . . though I love them too.)

CONTACT FOSTER MOM: JOYOUS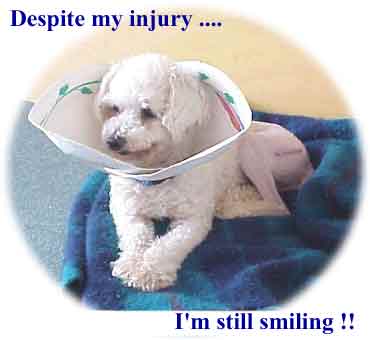 12/18/02

This is me on a Saturday morning in December 2002
when a Bichon Rescue volunteer
came to get me out of the hospital. ¯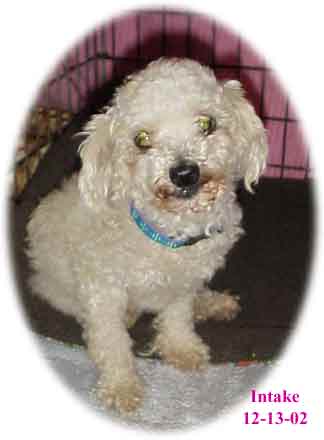 On Friday night (Dec 13 ),
I had a femoral head ostectomy ...
to fix a very painful dislocated hip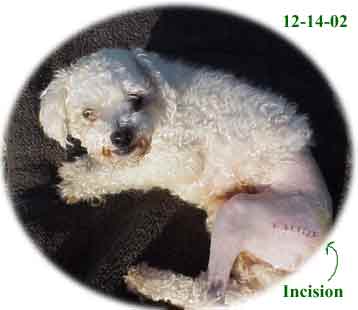 Stay tuned for more of my rehab/recovery report ...
please lift me up in your prayers as I
recover and return to a happy/healthy fluff!
THANK YOU!

Bichon Frise Information Station